Welcome to the Keystone Column. This week we take a closer look at the Global Innovation Index. It was published for 2017 in June 2017 and contains some interesting findings in relation to the Irish Market. We also feature this weeks tenders report for Ireland.
***
Every year Cornell University in the United States publishes a Global Innovation Index. This very comprehensive and weighty document provides a wealth of deeply insightful data into the relative strengths and weaknesses of countries around the world. Innovation is particularly important as it is a measure of the underlying dynamism in an economy, and points towards its capacity to grow and continue to add value to market activities. This growth derives from a wide range of areas. In this week's column we are going to focus on Ireland first – much of the news is very positive – and then Switzerland, the leading Innovation economy in the world. We will draw some comparisons between the very good and the demonstrably great.
What the Global Innovation Index measures
The index comprises the following categories, sub-pillars and (81) measured criteria across 127 nation states.
Inputs – Institutions: a total of 8 criteria are measured across the political environment, regulatory environment and business environment;
Inputs – Human capital and research: a total of 12 criteria are measured across the political environment, regulatory environment and business environment;
Inputs – Infrastructure: a total of 10 criteria are measured across the ICT, General Infrastructure and Ecological Sustainability quadrants;
Inputs – Market sophistication: a total of 9 criteria are measured across Credit, Investment and Trade, Competition and Market Scale;
Inputs – Business sophistication: a total of 15 criteria are measured across Knowledge workers, Innovation linkages and Knowledge absorption;
Outputs – Knowledge and technology outputs: a total of 14 criteria are measured across Knowledge creation, Knowledge impact and Knowledge diffusion; and
Outputs – Creative outputs: a total of 13 criteria are measured across Intangible assets, Creative goods & services and Online creativity.
Ireland – ranked 10th in the world for innovation
Ireland is by any measure an innovative economy. In fact, our innovation is held back by the old economy (traditional legacy concept banks & fixed capital investment) more than the new economy. We will explain this in more detail later. First, we want to focus on some of the highlights and what Ireland does well.
Headline Strengths
Ireland scores well in relative terms on all categories. The lowest (weakest) ranking is 25th place for market sophistication. The highest placings are for knowledge outputs (5th place) and business sophistication (10th place). Ireland scores well on particular sub-indices that one doesn't always hear about like energy efficiency relative to GDP (probably due our lack of heavy, capital intensive industry). Some key sub-indices Ireland performs well on are as follows:
1st in world: ICT services exports as a % of total trade – Ireland's tech sector in particular exports more in relative terms than anyone else;
1st in world: FDI net outflows as a % of GDP – Ireland pays out more to FDI companies working in Ireland than anyone else in relative terms;
1st in world: Intellectual property payments as a % of total trade – Ireland makes more IP payments than anyone else;
2nd in world: FDI net inflows as a % of GDP – Ireland gets the second highest amount of net inward investment;
2nd in world: Computer software spending as a % of GDP – As a percentage of GDP the amount registered as spent in Ireland is the second highest;
4th in world: GDP / unit of energy use – Ireland's GDP does not consume significant quantum of energy;
5th in world: High & medium high tech manufactures % – there is a high percentage of tech manufacturers as a percentage of manufacturers;
5th in world: Ease of paying taxes – Ireland makes taxes easy to pay;
6th in world: Regulatory quality – regulation is streamlined and efficient;
7th in world: School life expectancy – school completion rates are high;
8th in world: Females employed with advanced degrees as a % of total employees – Ireland has a high level of highly qualified women in the workforce;
9th in world: ICTs and business model creation – Ireland ranks well for business & hi-tech creation;
10th in world: PISA scales in reading, maths & science – Ireland's standardised test scores are high in relative terms; and
10th in world: Video uploads on YouTube as a % of population (15-69) – we have a digitally engaged population at ease with new platforms and mediums.
What is immediately apparent is the scale of the impact of FDI on Irish figures. There are two Irelands. Those measures that most impact on indigenous performance, do not impede Hi-Tech companies that have located operations in Ireland (e.g. access to credit is not an issue for them).
Ireland vs the Best and the 'Best of the Rest'
In the table below we lay out Ireland's weakest areas on the index against Switzerland, the highest ranked country, and we also highlight the top ranked country for each measure in question. We outline some reasons for the disparity and what Ireland could do in further enhance its competitiveness and innovativeness. It is worth restating that all countries have relative weaknesses across 81 measures. Ireland's lowest score, 'ICT imports as a % of overall trade' (85th out of 128 countries) is both distorted by the FDI sector in Ireland and is some four places higher than Switzerland's lowest score (89th out of 128 countries) for the 'ease of protecting minority investors' – Ireland ranks 13th on that measure.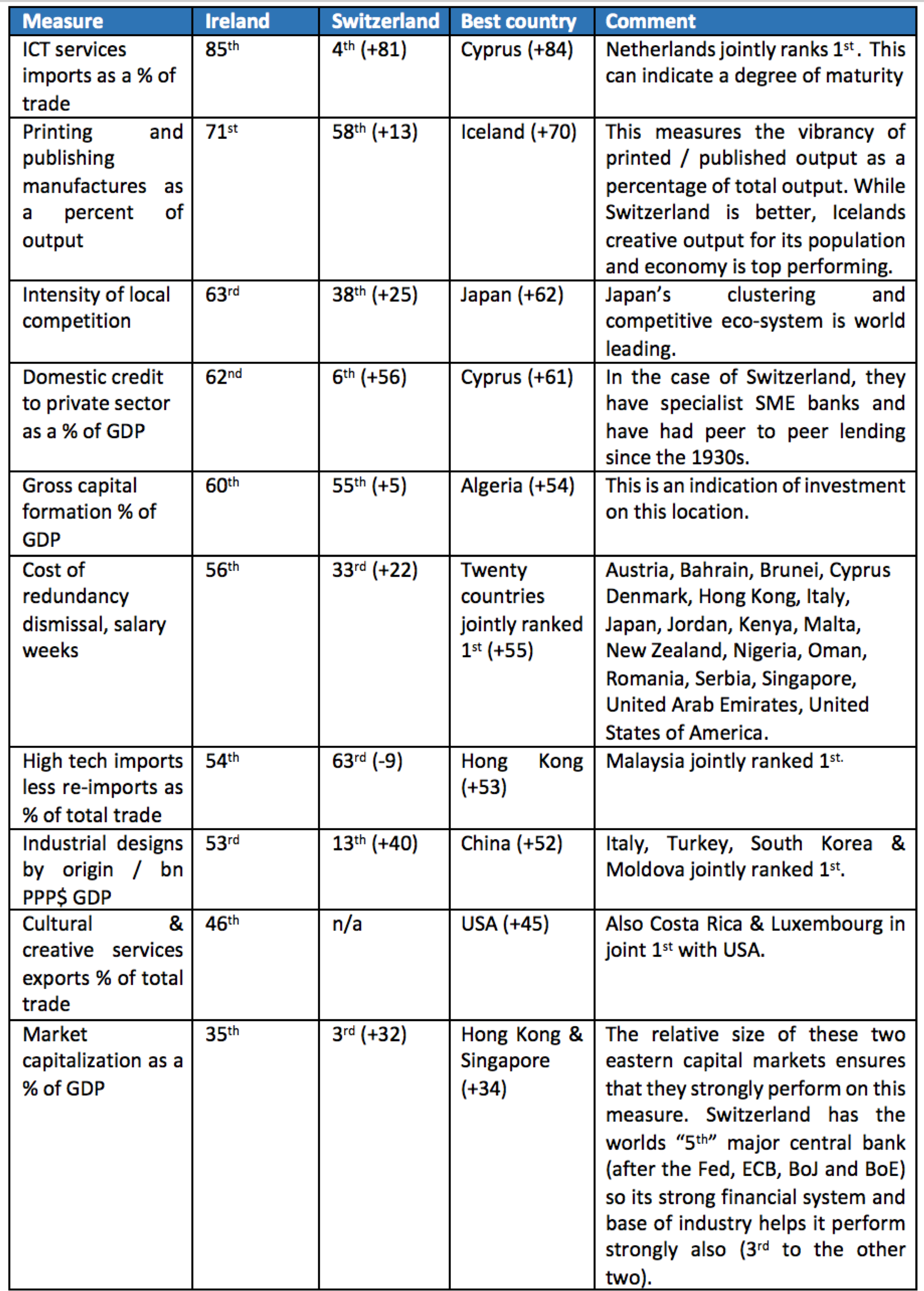 Observations on the Global Innovation Index findings
The news overall for Ireland is quite positive. It is good to see indices that highlight issues that are known problems like Irelands infrastructural issues and credit access issues. Countries that Ireland is generally close to, but quite far away from on certain key measures, tend to outperform us in these areas. It also highlights the benefits and the problems of FDI in an economy the size of Ireland. On certain measures, Ireland's trade flows and GDP measures either improve (design by origin, growth rate of PPP per worker) or disimprove (cultural exports, capital investment, credit availability) Ireland's position without real merit. There are two Irelands here.
If we are honest with ourselves, we can and should be aiming for better on the Global Innovation Index, and we have the capacity to realistically become the most innovative country within a decade. We can only do this if the measures in this report are worked upon, point by point. Ireland can innovate and outgrow the consequences of financial crisis but cannot do this without fundamental changes in areas of the economy. Competitiveness, credit access, capital investment in fixed infrastructure and labour regulation reforms are key to reforming this.
New public procurement tenders this week
Visit the Keystone website to view our take on the 500+ active public procurement opportunities with more than five days until their deadline. There are a vast range of services, supplies and construction related to public procurement opportunities in the following sectors (there are many more sectors than the sample list below):
Construction and related trades,
Professional & Advisory Services,
PR, Media, Advertising and related,
ICT supplies and services,
Training,
Property & facilities management,
Vehicle & automotive,
Catering and related services,
Cleaning and related services,
Waste Management,
Maintenance and related services,
Horticultural supplies & services,
Research & environmental monitoring,
Printing, office supplies and related services,
Trades,
Medical and scientific research, supplies and services,
A vast range of other services and supplies.
Businesses interested in any of these strategic procurement opportunities that are unsure of how they can follow-up on these tenders can contact Keystone at any stage. We would be happy to discuss your needs and where they may fit with your business growth plans. These public procurement opportunities are sources of business growth and innovation for companies across the country.
Please note, e-tenders often has public procurement opportunities incorrectly categorised so people relying on e-tender alerts could easily miss out on opportunities if they are dependent on it. E-tenders is only as reliable as the people inputting tenders and mistakes are made very frequently. The Keystone Column includes all live tenders posted on e-tenders that have five or more days until their deadline as at July 27th 2017.