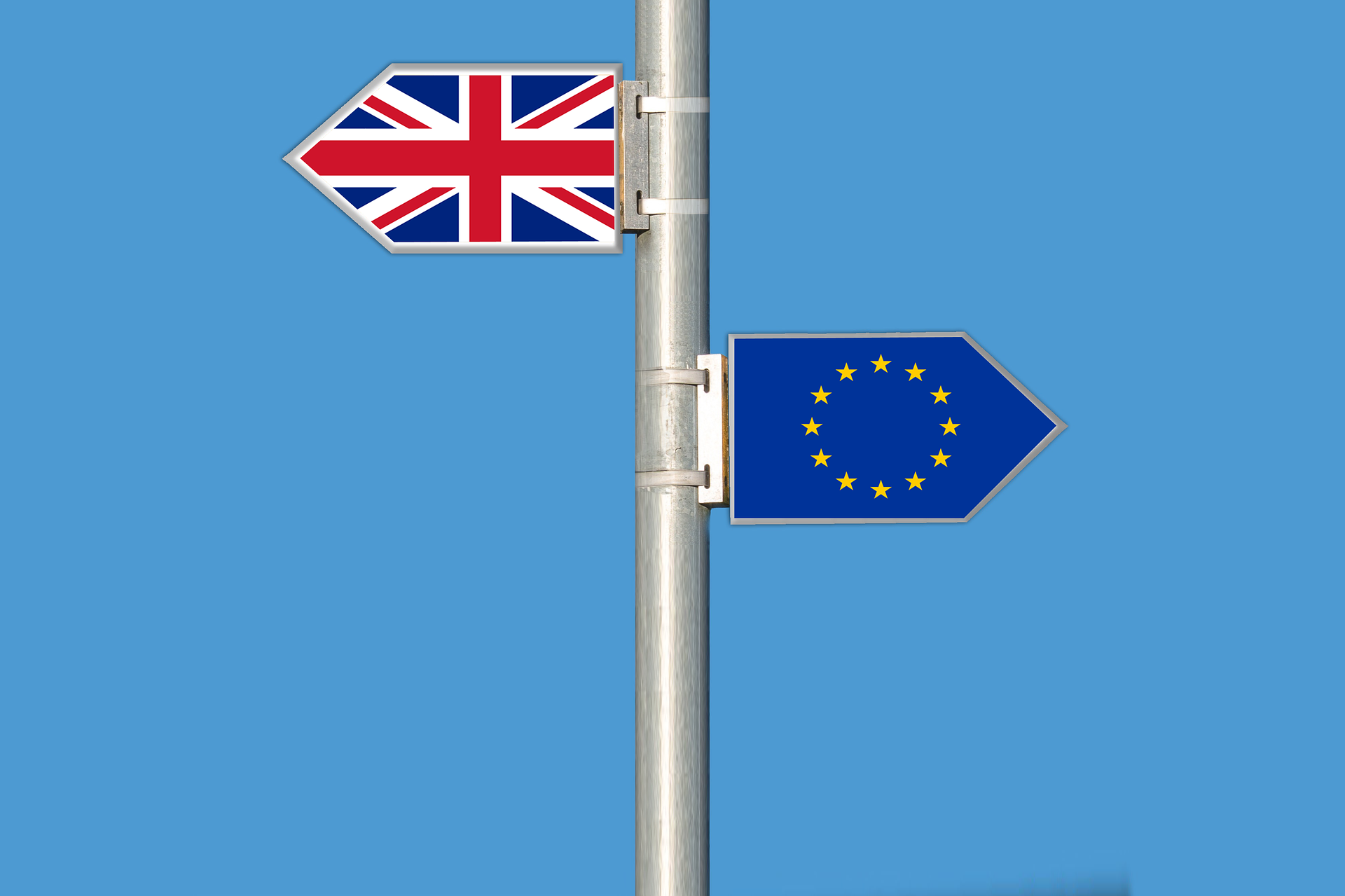 Welcome to the Keystone Column. This week we look at the darker side of Brexit Britain which is emerging from two perspectives – preferential rules (with a hint of 1984) and the disappearance of the humble lettuce (and who's really to blame for it).  We feature an energy efficiency company and and we conclude with our weekly list of current Irish public tenders.
Brexit Britain – when a Fox is bitten in the tail by a turkey 
It can appear as though many of the leading Brexiteers are taking to their tasks in government in post Brexit Britain in quite a blithe manner. There was a general air of astonishment in procurement circles this week when news emerged that Dr. Liam Fox who heads the Department for International Trade has started to include provisos in its procurement contest specifying in advertisements that contractors must support Brexit.
This bureaucratic kulturkampf is problematic on several fronts. Firstly, it is discriminatory and the United Kingdom remains a member of the EU. Secondly, while the value of the contracts does not hit the World Trade Organisation level, at a principles level, it also breaches non-discrimination principles enshrined in the WTO agreements as well as EU / EEA agreements. Thirdly, and perhaps demonstrating the chaotic thinking around Brexit, is the fact that many EU countries, on a bi-lateral basis, are amongst the most likely to object to a departure like this – whether on EU grounds or WTO grounds. Certain categories excluded from procurement rules like aspects of defence spending are still governed by WTO agreements. Such contests often see companies from France, Germany, Spain or Italy (major exporting countries in this sector) bidding for contracts. How willing or likely are major manufacturers in countries like these EU members to accept a stance like this. The UK is betting on growing its trade through the WTO network but anyone in the WTO can create serious issues for the UK where it is being partial and discriminatory.
Albert Sanchez-Graells, senior lecturer in law at Bristol University law school, has said "Nobody who does procurement professionally would not have identified this as something that cannot be done". In a pair of advertisements (one included below), the Department for International Trade specified that in order to have the right "cultural fit" for the task, they must "be committed to the best possible outcome for the United Kingdom following its departure from the European Union".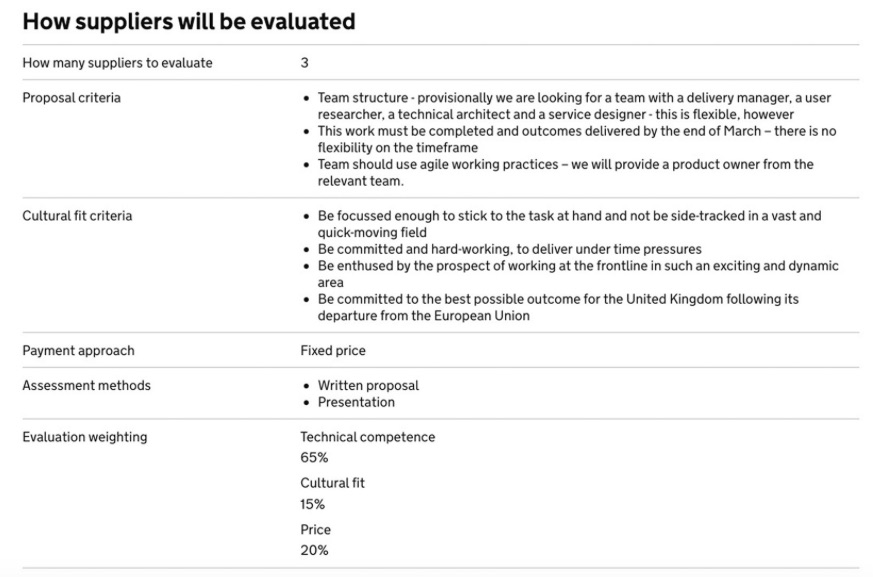 This might be seen as a gambit to kick off the month leading to the triggering of Article 50 but we think that Michael Gove's assertion that the UK has had enough of experts is possibly closer to the mark. Boris Johnson has questionable procurement track record from his time as Mayor of London. When generally accepted laws of fairness and impartiality start to be abandoned, it is worth paying attention to developments. It fits into the Brexit/Trumpian flow of nationalist/populist discourse but whether it will, in the long run, serve the common good is another question entirely.
9/10ths of the story lies elsewhere
There have been numerous stories since the beginning of 2017 to do with significant levels of stock outs in the retail sector. Specifically, there has been little in the way of leaf products like lettuce, spinach and endives and fruiting perishables (courgettes / zucchinis, aubergines / eggplants). In fact, some of the tabloids in Brexit Britain (the Sun), as is their wont, have displayed photos of packed shelves in countries like Spain as shelves lie empty in the UK.
The story could not have been clearer in its presentation. Mean-spirited Europeans were denying plucky Brexit Britain its iceberg lettuce. The reality however is somewhat different. You might say 9/10ths of the story lies elsewhere. Details have emerged from Spanish growers that not only show British buyers got their buying strategy wrong but that the claims from the UK simply do not stand up to logic. Products like lettuce have very short shelf lives so hoarding the product neither makes sense nor is feasible. What happened is that UK buyers refused to pay the prices that other buyers around Europe were paying (like in Ireland).
While weather played a role in the initial crop shortage (several months ago at this stage), since then, subsequent stock outs are down to falloffs in orders from buyers, especially in the UK where lurid headlines are still being written. As the growers in Spain have stated, the buyers are not even giving British consumers the chance to choose the product or not. They have delisted the humble lettuce, to the benefit of other consumers around Europe who still want to buy.
Innovation – save energy, save money and maybe save the planet
Energy Elephant is an Irish company that helps companies reduce their energy costs. They work with companies to benchmark their usage and manage it down over time by helping them optimise heating and related costs. The way it works is straightforward. Companies send them their energy data for analysis.  Energy Elephant analyse the data and then send key insights, such as when do companies use the most energy, how seasonal the usage is, what percentage of energy is for thermal uses and what is the split between standing and variable charges.  The company can then act on the insights to reduce energy waste and become more energy efficient. They are a  growing company helping the world become greener and companies save money. What's not to like!
New public procurement tenders this week 
Visit the Keystone website to view our take on the 500+ active public procurement opportunities with more than five days until their deadline. There are a vast range of services, supplies and construction related to public procurement opportunities in the following sectors (there are many more sectors than the sample list below):
Construction and related trades,
Professional & Advisory Services,
PR, Media, Advertising and related,
ICT supplies and services,
Training,
Property & facilities management,
Vehicle & automotive,
Catering and related services,
Cleaning and related services,
Waste Management,
Maintenance and related services,
Horticultural supplies & services,
Research & environmental monitoring,
Printing, office supplies and related services,
Trades,
Medical and scientific research, supplies and services,
A vast range of other services and supplies.
http://keystonepg.ie/wp-content/uploads/2017/03/Keystone-E-Tenders-Report-Open-YTD-as-at-0203-by-date.pdf
http://keystonepg.ie/wp-content/uploads/2017/03/Keystone-E-Tenders-Report-Open-YTD-as-at-0203-by-sector.pdf
Businesses interested in any of these strategic procurement opportunities that are unsure of how they can follow-up on these tenders can contact Keystone at any stage. We would be happy to discuss your needs and where they may fit with your business growth plans. These public procurement opportunities are sources of business growth and innovation for companies across the country.
Please note, e-tenders often has public procurement opportunities incorrectly categorised so people relying on e-tender alerts could easily miss out on opportunities if they are dependent on it. E-tenders is only as reliable as the people inputting tenders and mistakes are made very frequently. The Keystone Column includes all live tenders posted on e-tenders that have five or more days until their deadline as at March 02nd 2017.