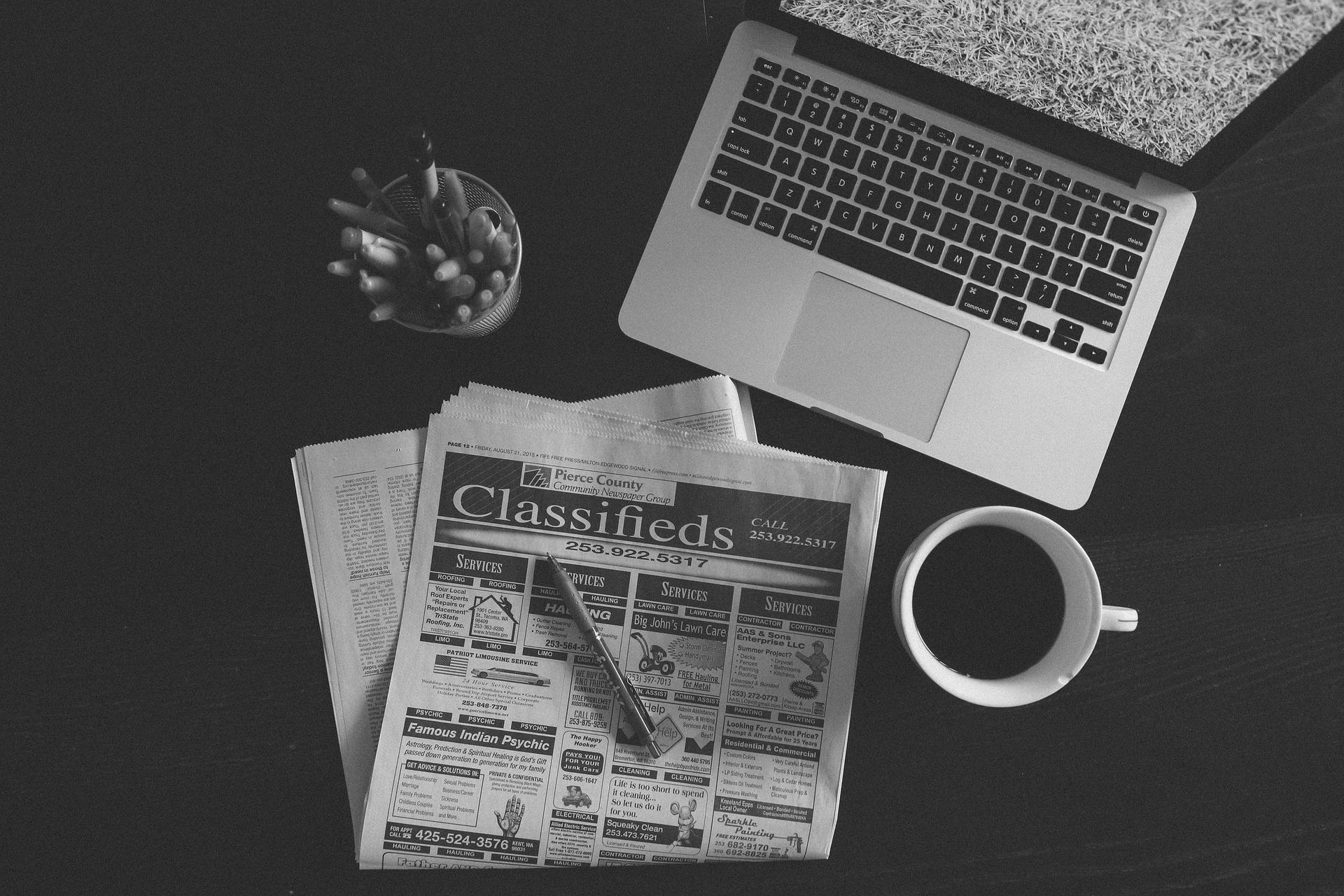 Welcome to this week's edition of the Keystone Column containing business stories and public procurement opportunities that drive the commercial strategy of ambitious companies. This week, inspired by Dundalk's valiant efforts in the Champion's League, we look at purchasing strategy through the lens of soccer. We also see how canny purchasing decisions regarding IT infrastructure allowed one Irish startup to embark on a turbo-powered growth spree! As usual, our weekly tender alerts service wraps up this issue of the Column.
Business stories – doing business with the UK
Concerns about the UK's vote to leave the European Union has ensured that Irish business sentiment "worsened markedly" in the past three months according to a report in the Irish Times. The KBC Bank Ireland and Chartered Accountants Ireland business sentiment index found that while business activity has weakened only marginally in the past three months, companies are taking a more cautious attitude to their prospects. Companies expressed concern about the impact of a weak sterling on global currency markets, while other Brexit-related issues, such as potential administrative difficulties in trading with the UK and the relocation of activities out of Ireland, were also highlighted.
However, the Irish Times also provides cause for Irish optimism post-Brexit with a report on a survey from an association for investment professionals. The survey is the latest to claim that Dublin would see a positive impact in its financial services sector.  The CFA Institute questioned 2,000 investment professionals around the world and found 62 per cent said Dublin would see a positive impact in its financial services sector from Britain's decision to leave the EU, with 69 per cent believing Frankfurt would also gain.
Like many observers, we feel that the only thing that can be said for certain about Brexit's impact on Ireland is that its still uncertain! This said, there are some aspects like post-Brexit impacts on procurement policy that we can be a little more certain about.  Commenting on her blog, Public Procurement Analysis, Abby Semple has provided five predictions for public procurement regulation in the UK:
A complete rewrite of the rulebook is unlikely – it is unlikely that public procurement would be high on the list of laws to be rewritten in the UK, not least because the most current EU Directives reflect close UK involvement.
Temptations of protectionism will be hard to resist – EU rules are widely perceived as the reason why some public contracts are awarded to foreign firms (although procurement data make those claims tenuous).
Environmental and social standards may lose out – these are currently voluntary for public authorities, and this is one area were procurement in the UK lags behind Scandinavia and Germany.
Competitiveness and costs will depend very much on the general economic climate.
Transparency and corruption – there is an increased risk if political interference in the award of contracts becomes normalised. Corruption in public procurement is multifaceted, it can also take the form of intentionally running procedures in a manner which gives an unfair advantage to certain firm.
These views are well founded and tally with the views we have expressed in this column over the past few months. Irish businesses looking for insights into the potential purchasing strategy of UK buyers should read it.
Interesting trends –  purchasing strategy goals!
We love the book Soccernomics by Kuper and Symanski. Counter-intuitive, counter-consensus thinking is what floats our proverbial boat. Many of us know the script we are all meant to think anyway so what's the fun in going with the flow? As the Irish soccer player Roy Keane once put it, "the only things that go with the flow are dead fish". Quite!
In this vein, we had occasion recently to revisit Soccernomics, specifically the chapter on purchasing strategy for clubs. Nowadays, many people associate these kinds of rules with Billy Beane of the the Oakland A's baseball team or Arsene Wenger (a trained economist) of the London soccer club Arsenal. The approach is expanded upon in detail in the book Moneyball (which was made into a film starring Brad Pitt). The origin of the species however was a mercurial managerial duo of the 1970s who worked at two small midlands clubs in England – Derby County and Nottingham Forest and brought them to great heights. Their names will be unfamiliar to many at this stage but Brian Clough and Peter Taylor were iconoclasts and their approach to market dynamics has been studied (and further developed) by the likes of Beane and Wenger.
The soccernomics rules for approaching the highly dysfunctional soccer transfers market are as follows: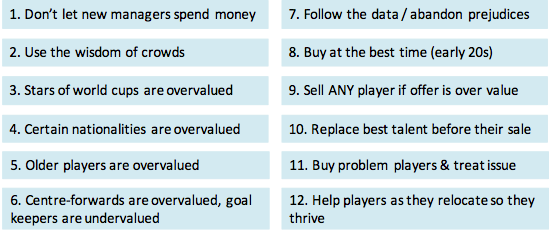 We have adapted the rules laid out on pages 54/55 of their book to help the canny buyer take full advantage as follows:
We have views on the two rules in grey but have deliberately chosen to eschew brief comments to avoid any appearance of being ageist or being supportive of exploitation. In a business context, there are tactics that can be used for these scenarios and things that buyers should consider when dealing with seasoned suppliers that are not as good as they may have been, or suppliers that may have had a significant issue and are likely to be open to a deal.
We will leave our comments at that for now. We would be interested in your views on this.
Innovation – choosing the right infrastructure for turbo powered growth.
Founded in 2003 by Michael Crean when he became unemployed, MicksGarage.com has grown to become one of the UK & Ireland's largest car parts and accessories online retailers with over €11 million in turnover. Its catalogue is extensive, boasting over 5.6 million car parts and accessories. Crean is the company's CTO and remarkably MicksGarage's platform was developed and is maintained in-house, and is designed to facilitate the growth and expansion of a large e-commerce business.
In addition to Crean's skills as a process designer and developer, a key decision was to have the company's critical infrastructure in the cloud. With the security, scalability, elasticity and availability that it provides, this has allowed the company to focus on developing its own technology at a rapid pace, often with more than daily updates. This speed and agility has allowed the company to grow at a remarkable rate and take full advantage of its hybrid nature, with its major hosting done in the cloud, but its development, analytics and fraud prevention kept on-premises.
Crean is justifiably very proud of the technology he and his team have developed, telling Silicon Republic "… this technology is something that other e-commerce businesses can just dream of. Our technology has evolved over the past 10 years and is designed to solve every conceivable issue an e-commerce business will ever come across."
With a new distribution centre in Kraków and plans for a new depot in Liverpool, MicksGarage is motoring along nicely and is a great testament to the potential  the cloud brings to ambitious start-ups!
Note: we are in the sourcing & procurement business. We highlight things we like or that are novel or innovative. Innovators should be encouraged.
New public procurement tenders this week 
Visit the Keystone website to view our take on the 500+ active public procurement opportunities with more than five days until their deadline. There are a vast range of services, supplies and construction related to public procurement opportunities in the following sectors (there are many more sectors than the sample list below):
Construction and related trades, 
Professional & Advisory Services, 
PR, Media, Advertising and related,
ICT supplies and services, 
Training,
Property & facilities management,
Vehicle & automotive,
Catering and related services,
Cleaning and related services,
Waste Management,
Maintenance and related services,
Horticultural supplies & services,
Research & environmental monitoring,
Printing, office supplies and related services,
Trades,
Medical and scientific research, supplies and services,
A vast range of other services and supplies.
Businesses interested in any of these public procurement opportunities that are unsure of how they can follow-up on these tenders can contact Keystone at any stage. We would be happy to discuss your needs and where they may fit with your business growth plans. These public procurement opportunities are sources of business growth and innovation for companies across the country.
Keystone E-Tenders Report Open YTD as at 1808 (by date of publication)
Keystone E-Tenders Report Open YTD as at 1808 (by sector)
Please note, e-tenders often has public procurement opportunities incorrectly categorised so people relying on e-tender alerts could easily miss out on opportunities if they are dependent on it. E-tenders is only as reliable as the people inputting tenders and mistakes are made very frequently. The Keystone Column includes all live tenders posted on e-tenders since January 4th 2016 that have five or more days until their deadline as at August 18th 2016.