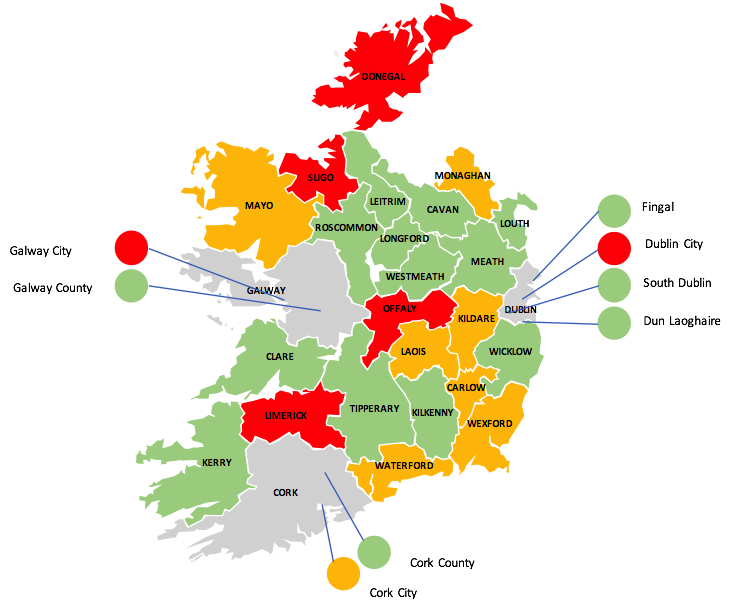 Welcome to the Keystone Column. This week we look at just how compliant  local authorities are with government regulations on publishing procurement expenditure – and why this matters for Irish businesses. As usual, we conclude with our weekly list of current Irish public tenders.
Publishing public expenditure data in Ireland
The Department of Public Expenditure and Reform mandated that all Local Authorities must publish public expenditure data for purchase orders in excess of €20,000 in July 2012 (Circular Fin 07/12). This important data for many reasons, including:
Market transparency breeds market confidence: When companies see who is winning work, they gain confidence in their own capacity to win and mindsets can change quite quickly. We do not have enough competition in many segments / service areas. The more options there are for buyers, the better the value delivered on behalf of citizens (all other things being equal).
Underperformance can be spotted: where there is underperformance, a lack of competition or any other possibly unsatisfactory state of affairs (e.g. direct conflict of interest), publication of data makes it easier to join dots and raise questions.
We have looked at all 31 local authority web sites, where this data is meant to be published and noted large gaps in the publication of public expenditure data.
Key highlights (as shown in the map of Ireland above this article):
17 local authorities commenced publication in 2012 no later than Oct-Dec 2012 and have published to the end of Q4 2016 or the end of Q1 2017 but have published all quarters without any gaps;
8 councils have partial records of compliance during this period, either starting later than Q4 2012 or have stopped publishing data for some reason;
6 councils have published no data at all. The councils include one of the State's largest councils Dublin City Council, Donegal, Galway City Council, Limerick City and County Council, Offaly and Sligo County Councils.
Is this variation in compliance levels acceptable? You can access our full article and a detailed county-by-county report on what is published here: http://keystonepg.ie/publishing-public-expenditure-data/
Note: We checked the finance, procurement, publications, financial reporting and council governance sections of the councils' websites on 20 June 2017. We have also checked site maps. 
New public procurement tenders this week 
Visit the Keystone website to view our take on the 500+ active public procurement opportunities with more than five days until their deadline. There are a vast range of services, supplies and construction related to public procurement opportunities in the following sectors (there are many more sectors than the sample list below):
Construction and related trades,
Professional & Advisory Services,
PR, Media, Advertising and related,
ICT supplies and services,
Training,
Property & facilities management,
Vehicle & automotive,
Catering and related services,
Cleaning and related services,
Waste Management,
Maintenance and related services,
Horticultural supplies & services,
Research & environmental monitoring,
Printing, office supplies and related services,
Trades,
Medical and scientific research, supplies and services,
A vast range of other services and supplies.
http://keystonepg.ie/wp-content/uploads/2017/06/Keystone-E-Tenders-Report-Open-YTD-as-at-2206-by-date.pdf
http://keystonepg.ie/wp-content/uploads/2017/06/Keystone-E-Tenders-Report-Open-YTD-as-at-2206-by-sector.pdf
Businesses interested in any of these strategic procurement opportunities that are unsure of how they can follow-up on these tenders can contact Keystone at any stage. We would be happy to discuss your needs and where they may fit with your business growth plans. These public procurement opportunities are sources of business growth and innovation for companies across the country.
Please note, e-tenders often has public procurement opportunities incorrectly categorised so people relying on e-tender alerts could easily miss out on opportunities if they are dependent on it. E-tenders is only as reliable as the people inputting tenders and mistakes are made very frequently. The Keystone Column includes all live tenders posted on e-tenders that have five or more days until their deadline as at June 22nd 2017.