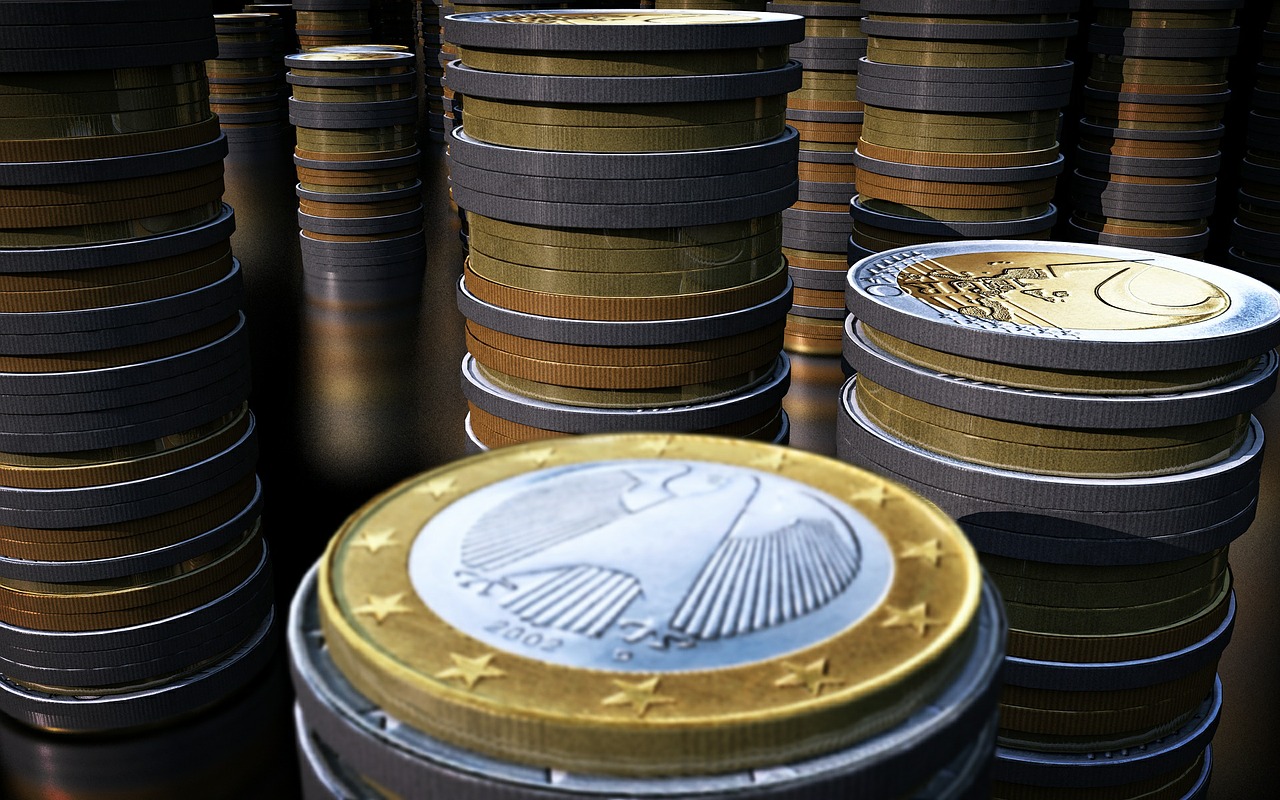 Keystone Procurement is an advocate for full transparency in relation to publishing public expenditure data.* It remains the case that the majority of public contract values are not published in Ireland. This is not a norm universally however. In many EU countries including but not limited to Portugal, Slovakia and Estonia, all public expenditure data including the individual contract values are published.
We know that it is human to err. Whether it is through inertia, genuine error, a lack of knowledge or in a minority of cases, something nefarious, the public has a right to know what is being bought by the State and at what cost. Ireland has a particular view of confidentiality that countries like Poland and Estonia do not share (the reality of a police state remains a living memory).
The Department of Public Expenditure and Reform mandated that all Local Authorities must publish public expenditure data for purchase orders in excess of €20,000 in July 2012. The circular is known as circular Fin 07/12. We have looked at all 31 local authority sites, where this data is meant to be published and noted large gaps in the publication of public expenditure data.
It is legitimate to question, in light of recent revelations in the third level sector and Cavan County Council in the past six weeks alone, whether this variation in compliance levels is acceptable. Quis custodiet ipsos custodes – who guards the guardians?
There are many reasons why it is good for this public expenditure data to be published. We will outline the three main reasons we believe it to be a good thing. This remains (in our view) one of former Minister Brendan Howlin's more enlightened policy decisions during his time in office.
Market transparency breeds market confidence: the only source of price transparency in Ireland is the data published by some counties since Q4 2012. Companies working in those counties can target work in excess of that value and start to profile the local authority expenditure profile, a key step to building a pipeline of government business. When companies see who is winning, they gain confidence in their own capacity to win and mindsets can change quite quickly. We do not have enough competition in many segments / service areas. The more options there are for buyers, the better the value delivered on behalf of citizens (all other things being equal).
Government in sunshine is the best disinfectant: where there is underperformance, a lack of competition or any other possibly unsatisfactory state of affairs (e.g. direct conflict of interest), publication of data makes it easier to join dots and raise questions. Even if this only proves necessary in a tiny minority of cases, it can help build confidence in state processes and burnish its reputation.
The Hawthorne Effect states that by measuring something, it improves. As experienced management consultants, we expected Kerry County Council (who operate www.supplygov.ie on behalf of all local authorities) to have a strong record of compliance (they do). While this next statement is an assumption on our part, we expect that they are subject to enhanced review because they run the www.supplygov.ie site on behalf of the local authorities across Ireland. Even though Kerry's website is antiquated by peer standards, their record of compliance is in the top 10% of counties. The Hawthorne Effect doesn't just extend to governance like this, it can also inform decision-making and other aspects related to the decision-making process when a buyer knows that losing bidders may look this data up to see who "won" the work they lost out on and at what price. If they aren't happy with what they see / hear, they can act as guardians of their own and general public interest by raising legitimate queries.
There are other reasons to commend the publication of this important data but we will restrict it to these three key reasons for now. We may revisit this area again in the future.
You can access our report  on what is published by each county in Ireland here: local-authority-data-compliance-report.
Key highlights, as of 20 June 2017:
17 local authorities commenced publication in 2012 no later than Oct-Dec 2012 and have published to the end of Q4 2016 or the end of Q1 2017 but have published all quarters without any gaps;
8 councils have partial records of compliance during this period, either starting later than Q4 2012 or have stopped publishing data for some reason;
6 councils have published no data at all. The councils include one of the State's largest councils Dublin City Council, Donegal, Galway City Council, Limerick City and County Council, Offaly and Sligo County Councils.
* In a small number of cases, where there is exclusive IP or patenting rights and only one supplier there is provision for price data remaining confidential.
Current Status
Our map below shows the compliance level of each Local Authority. It is updated to reflect our original report and each of the updates we have received (at the bottom of this page).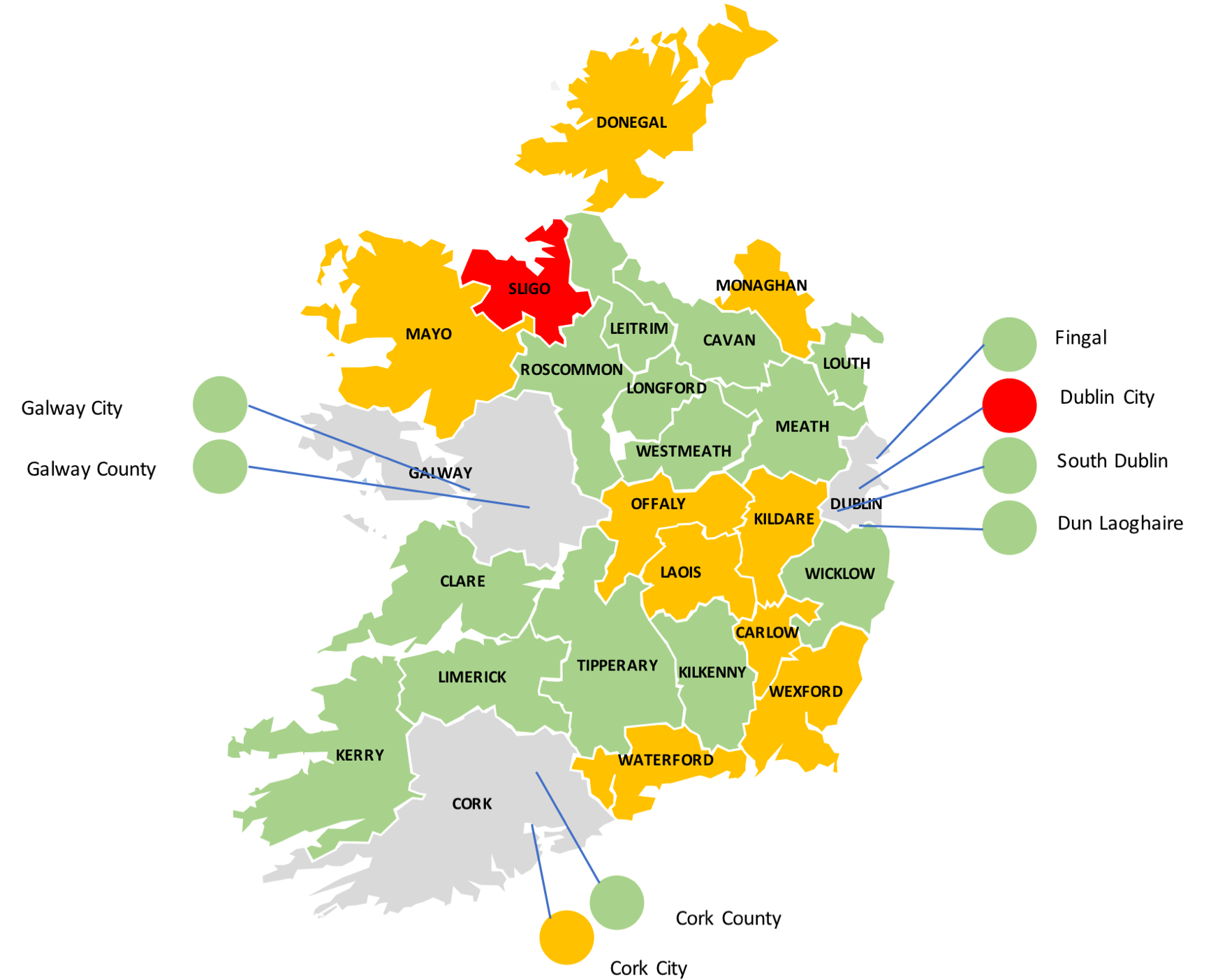 Updates
Keystone Procurement was contacted and asked to update the status of certain counties following the publishing of our data. We are delighted to add this note. We have not however changed the findings in the main article above as it was accurate, to the best of our knowledge, as at the time of publishing on 22 June 2017.
Update 21 July 2017
Galway City Council: http://www.galwaycity.ie/supplier-goods-services/supplier-goods-services-information#4
Galway City Council have an automated report on their website where users select their chosen dates. This  is up to date as of end of Q1 2017.
Limerick: https://www.limerick.ie/council/services/business-and-economy/procurement/procurements
Limerick now have a very comprehensive listing of expenditure information a procurement page.
Update: 17 July 2017
Donegal: http://www.donegalcoco.ie/services/financepublications/posgreaterthan20k/
Note: No update since Q2 2016- they are currently working on this. They also hope to improve access to info.
Offaly: Finance page under financial reporting – all data for 2016 & for Qtr 1 2017 is available here. Data for Qtr 2 2017 will be uploaded shortly
http://www.offaly.ie/eng/Services/Finance/Forms-Publications-Reports/Financial-Reporting/Quarter%201%202016%20%20-%20Purchase%20Orders%20.pdf
They also hope to improve access to info.
Note: with respect to the 3 counties where we assert no data has been published, the statement relates to checking the finance, procurement, publications, financial reporting and council governance sections of the sites on 20 June 2017, and updates from county councils received after we compiled our report . We have also checked site maps. It is possible in these cases that data is on their sites but we have been unable to locate it. If we are correct, 45% of councils are wholly or partially non-compliant with their duty to disclose how they are spending public money.