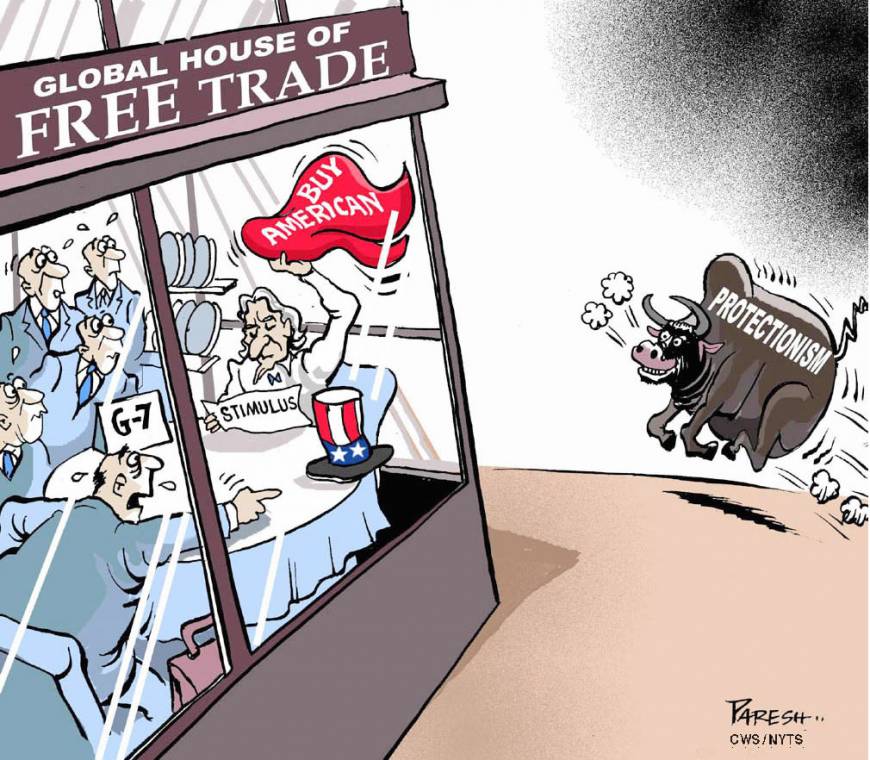 Welcome to this week's edition of the Keystone Column containing business stories and public procurement opportunities that drive the commercial strategy of ambitious companies. This week's focus is on the return of protectionism. Our weekly list of open tenders in the Irish public sector is also included below.
Business Stories
The return of protectionism?
The first chill blains from the election of the new American President are starting to be felt on both sides of the Rio Grande. President-Elect Trump has Free Trade Agreements in his sights, ostensibly to give the heartlands the infusion of economic impetus they need to start growing again. Over $500bn in trade is conducted across the US/Mexico border every year and many US companies have moved operations to Mexico because of the lower costs they can avail of there. The balance of trade between the US and Mexico is currently tilted heavily in Mexico's favour (by some $80bn) so his latest proposals could see the imposition of 35% tariffs on Mexican imports and the penalisation of US companies operating in Mexico. While this kind of protectionism sounds (and is) dramatic, it is quite different to the scrapping of NAFTA (as announced on the campaign trail). For every upside, there is often a downside to protectionism and this includes the probability of higher prices for everyday goods like meat and building materials as well as retaliatory tariffs on US goods. Finally, there is no guarantee jobs will actually come back to the US making one wonder why…..
Tackling white-collar crime
Ireland's record on white-collar crime is weak by the standards of most developed countries. Few people would be able to mention a single prosecuted case beyond Anglo-Irish Bank and an unfortunate importer of garlic. For example, does the average person know what happened following the horse meat scandal? We noted Nigeria has reported that 60% of all white-collar crime / corruption related cases are linked to public procurement cases. It is quite easy to point to the steps Nigeria is taking to tackle outcomes linked to procurement that are not in the State's interest – it is quite difficult to discern what is done where non-conformance is identified in Ireland however. For instance, Galway County Council has disclosed a sample audit found a high level of non-conformance with procurement rules. While the Council has defended its record, the impact of news like this on market confidence in the probity of contests can be significant. It is important that reports are issued outlining what happened and how things will operate in line with established rules in the future.
Interesting Trends
This case is protectionism but that case is simply ensuring a level playing field
An interesting row has broken out in Australia (a leader in global procurement practice) on the thorny issue of "equivalence vs. protectionism". As this story outlines, some 94% of all contracts in Australia go to domestically established firms (we assume some of these are local offices of global multinationals) which is a reasonably high retention rate. It stands to reason that a fair proportion of the remaining 6% comprises goods and services that are not available in Australia. This said, an Australian Senator has brought in a test to ensure overseas suppliers competing for contracts meet the same labour, social, environmental and economic regulatory conditions that Australian companies are expected to comply with.
In Australia, this is being presented by some as protectionism by the back door and a way of stepping around WTO rules for international trade. Interestingly, in the EU, the new procurement directives explicitly demand that public buyers MUST establish suppliers from overseas meet the same labour, social, environmental and economic regulatory conditions applied to EU firms. Australia has close proximity to low-cost labour markets which means it could be prone to both offshoring and dumping*. The EU rules were brought in and seen as a positive development that prevents "unfair" competition. In Australia, a growing consensus seems to be gathering for the opposing view – that protectionism harms the common good.
* Dumping typically refers to a company availing of a set of conditions in Country A one but then selling goods/services subsequently in Country B as being of an equivalent standard and subject to equivalent regulatory and legal requirements as a fully compliant indigenous firm in Country B. Economic dumping has been illegal under global trade rules for decades. Country A is a developing country for this purposes of this scenario and Country B a developed country.
Innovation
A short note this week to congratulate Tony Corrigan and his team in Tenderscout on scooping the top prize at the Eir Golden Spider awards (for technology companies) this week. Tony has exciting plans to grow his business which is entering its sixth year and has attracted venture capital interest in recent months. Tenderscout is a sales pipeline tool (and much more besides) that helps companies identify and target opportunities for public contracts that maximises their chances of success (here and overseas). It's a great Irish procurement technology story and we look forward to watching Tenderscout grow and develop for years to come.
New public procurement tenders this week
Visit the Keystone website to view our take on the 500+ active public procurement opportunities with more than five days until their deadline. There are a vast range of services, supplies and construction related to public procurement opportunities in the following sectors (there are many more sectors than the sample list below):
Construction and related trades,
Professional & Advisory Services,
PR, Media, Advertising and related,
ICT supplies and services,
Training,
Property & facilities management,
Vehicle & automotive,
Catering and related services,
Cleaning and related services,
Waste Management,
Maintenance and related services,
Horticultural supplies & services,
Research & environmental monitoring,
Printing, office supplies and related services,
Trades,
Medical and scientific research, supplies and services,
A vast range of other services and supplies.
Businesses interested in any of these public procurement opportunities that are unsure of how they can follow-up on these tenders can contact Keystone at any stage. We would be happy to discuss your needs and where they may fit with your business growth plans. These public procurement opportunities are sources of business growth and innovation for companies across the country.
Keystone-e-tenders-report-open-ytd-as-at-0112-by-date
Keystone-e-tenders-report-open-ytd-as-at-0112-by-sector
Please note, e-tenders often has public procurement opportunities incorrectly categorised so people relying on e-tender alerts could easily miss out on opportunities if they are dependent on it. E-tenders is only as reliable as the people inputting tenders and mistakes are made very frequently. The Keystone Column includes all live tenders posted on e-tenders since January 4th 2016 that have five or more days until their deadline as at December 1st 2016.